As 2019 comes to end, there is a lot to celebrate at Amalgamated Bank. Over the last year, we completed the acquisition of New Resource Bank, continued to post strong earnings, and took big leaps to fulfill our mission as America's socially responsible bank. Another bright spot over the last year has been the addition of five new commercial bankers who are bringing an enhanced focus on the Bank's social justice mission and deep expertise to our clients.
Please take a few minutes to meet them now:
Brenda Loya comes to Amalgamated Bank with more than a decade of impact lending experience and is charged with implementing a strategy to build the Bank's Community Development lending platform. With a background in banking at Citi and the Nonprofit Finance Fund, she brings a wealth of knowledge to our CDFI clients as they look to expand their lending into communities across the country. Brenda is a 2019 Fulcrum Fellow, along with serving on the board of Masa in New York and Raza Development Fund. When asked why she came to Amalgamated Bank Brenda answered, "the Bank's evident commitment to serving working class communities."
Dara Kagan is thrilled to join Amalgamated Bank serving clients in the Social Impact Banking team. Previously, Dara served as Associate Director at Plum Alley Investments, a group of women investors providing Series-A capital to female entrepreneurs. Bringing to bear her additional past experiences at the Ashoka Social Financial Services, the National Institute for Reproductive Health, the New York City Council Speaker's Office, and various political campaigns, she looks forward to working with her wonderful team to provide innovative financial services to mission-oriented clients. She sits on the boards of The Doula Project and The Feminist Press. When asked what excites her most about her work at Amalgamated Bank, she replied, "I love connecting clients with resources outside of their banking and lending needs; together, we create a larger ecosystem of socially-minded individuals and organizations to advance change."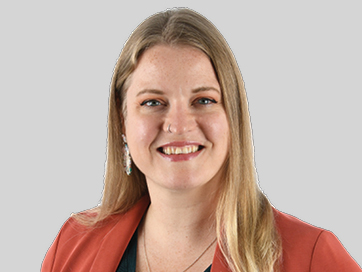 Caitlin Duffy comes to Amalgamated Bank with nearly a decade of experience in philanthropy and nonprofit management. Caitlin specifically works with foundation, family office, and nonprofit clients across their investment and banking needs. Previously, Caitlin worked with the National Committee for Responsive Philanthropy in progressive leadership roles in research, engagement, and programming. She has served as a lead coordinator for the DC TimeBank; as a member of the Board of Instigators of the Diverse City Fund, a community-led grantmaking fund in Washington, DC; and as a member of the steering committee for the DC chapter of Emerging Practitioners in Philanthropy (EPIP). Caitlin is most looking forward to helping the Bank's partners resource systems change work that furthers racial justice.
Collin Hooper focuses on originating and underwriting sponsor loans to the impact business community. Before coming to Amalgamated Bank, Collin spent 8 years working in traditional corporate and investment banking roles for banks in NYC at CIT Group, RBC and Goldman Sachs. He has completed his bachelors from NYU Stern School of Business. Having grown up in a medical family, he is most passionate about the healthcare industry and healthy living.
Nick Pancrazio joins Amalgamated Bank after spending over a decade fighting for progressive change and values on the national level. He has lead political operations and compliance teams on President Obama's and Secretary Clinton's presidential campaigns and at the Democratic National Committee, Democratic Congressional Campaign Committee, and ACLU. Given his background, Nick is intimately familiarly with his clients' political banking needs and leverages his experience to ensure that all of those needs are met. Nick is very excited to dive in to support our political banking clients during this important and consequential election cycle.