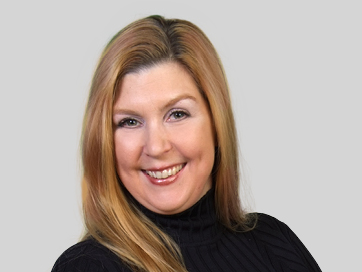 Kate Aldinger
Vice President, Residential Lending
NMLS #58011
275 Seventh Avenue New York, NY 10001
Kate Aldinger joined Amalgamated Bank's Residential Lending Group in February 2015 as a Vice President specializing in first-time home buyer programs such as SONYMA, and Housing Preservation and Development (HPD) grants for first-time home buyers. Kate, who works with various labor unions throughout New York City, including DC-37, has a proven track record of success.
Prior to joining Amalgamated Bank, Kate spent eight years at Bank of America / GMAC and was a branch manager at two boutique New Jersey-based mortgage operations where she promoted, represented and sold mortgage products to a diverse group of customers. While she has found a niche in assisting first-time home buyers, Kate has also provided assistance to customers seeking high-priced luxury homes worth upwards of one million dollars.
Kate understands that a home, at all levels, is a client's most important luxury. She appreciates the fact that each person she works with comes to her with a unique set of circumstances. She has found throughout her career that listening to a client's goals and objectives is critical to finding and securing the best customized mortgage solutions. She also believes in providing a high level of hands-on service throughout the entire loan process—a skill that she takes with her from her time as a sales representative at one of the largest volume Jaguar dealerships in the United States.
A native of Cape Cod and an avid horseback rider since her youth, Kate earned a bachelor of science in marketing and business management from Johnson and Wales University in Rhode Island. She is also a graduate of the Xinnix Mortgage Academy of Excellence. Kate maintains three award-winning show horses in Kentucky, and she credits horseback riding for her unparalleled discipline and motivation to succeed.
---
Applying online is as easy as 1-2-3. You can apply now in as little as 20 minutes.
Apply now and complete the application.
When you have completed the application, click submit and your information will be reviewed.
An Amalgamated Bank Loan Officer will follow up to answer your questions.
Our goal is to provide the highest level of service at very competitive rates. Our knowledgeable and friendly team is only a phone call away if you need help. For mortgage customer service, please call 800-332-2669.
Click "Apply with Kate" to create an account and start your application.