Amalgamated Bank is pleased to announce our 2022 year in review of special projects, media moments, and action points.
Our achievements last year showcase our commitment to delivering Amalgamated Bank's mission to do well by doing good - and solidifying our position as a leading player in the banking industry.

The hard work and dedication of our colleagues have been noticed and appreciated by media outlets and industry experts, who have highlighted our innovative products, services, and initiatives. We would like to thank our dedicated team and loyal customers for their support in making our 2022 spotlight moments possible.

Moving forward, we remain focused on continuing to deliver exceptional results and setting the bar for excellence in our industry. Stay tuned for more exciting updates from Amalgamated Bank this year.
With that, here are our top four moments to share:
1. Priscilla Sims Brown Named Most Powerful Woman to Watch by American Banker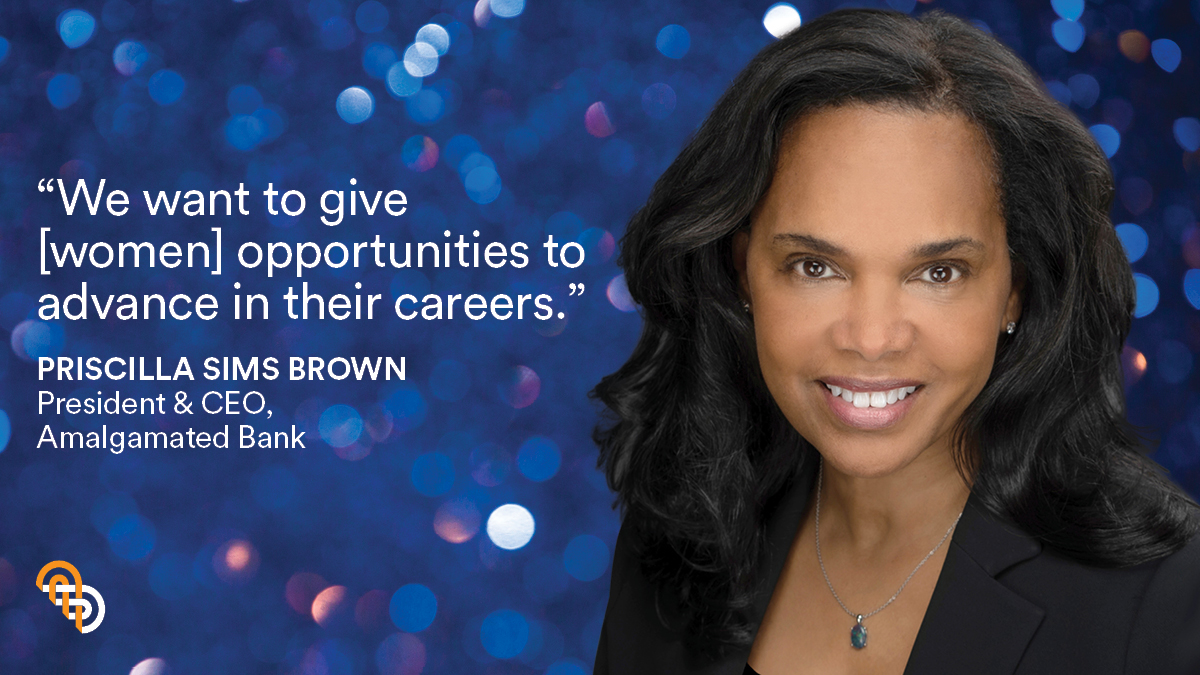 Priscilla Sims Brown, our President & CEO, is a true trailblazer in the banking industry and has rightfully earned her place as one of American Banker's most powerful women to watch. Responsible for directing the Bank's mission and strategy, she's also been instrumental in leading our digital transformation efforts. We're proud to see her at the forefront of this critical initiative and forging a new path for Amalgamated Bank! 
Read the full article on American Banker's website here.
2. Our Efforts to Stop Illicit Finance for Firearms Gets Eyes at The New York Times Dealbook Summit
The New York Times Dealbook Summit was a hot topic at the tail end of 2022. During the event, Priscilla Sims Brown sat down with Andrew Ross Sorkin to discuss Amalgamated's history and how it ties into our commitment to ESG. Priscilla also discussed our efforts in proposing the creation of a new merchant category code (MCC) for standalone gun stores, how the proposal became a reality, and the potential it has to reduce gun violence. We're honored to have shared our vision along with such an impressive roster of leaders. 
Watch the full segment on The New York Times' website here.
3. Taking Our Stance on the Frontlines of Roe v. Wade, As Told by the Boston Globe
Amalgamated Bank has a long history of advocating for reproductive rights, both as an employer and an ally to organizations on the frontlines of this issue. Before and after the Dobbs decision, we were clear in our position that access to reproductive health is a basic human right, including at the workplace. "If a young woman is unable to make a decision on her own — about how, when and if she has children — that's going to have wide-reaching ramifications throughout her career," said Maura Keaney, our Director of Client Engagement. 
Read the full article on The Boston Globe's website here.
4. Harvard Business Review Recognizes the Need to Work for a Greener, Cleaner Future
From decoupling our deposits from the fossil fuel industry to investing proactively in climate solutions, our work underscores the central role banks can play in creating a sustainable economy for future generations. We see the forest and the trees when it comes to climate change, and work diligently to ensure that our products, services, and corporate policies align with global initiatives to protect our planet. This mention in Harvard Business Review is one of many moments that demonstrate our steadfast commitment. 
Read the full article on Harvard Business Review's website here. 
---
About Amalgamated Bank
Amalgamated Bank ("Amalgamated'' or the "Bank"), the wholly owned banking subsidiary of Amalgamated Financial Corp. (Nasdaq: AMAL), is a mission-driven New York-based full-service commercial bank and a chartered trust company with a combined network of six branches in New York City, Washington D.C., San Francisco, and Boston. Amalgamated Bank provides commercial banking and trust services nationally and offers a full range of products and services to both commercial and retail customers. Since our founding in 1923, Amalgamated Bank has served as America's socially responsible bank, empowering organizations and individuals to advance positive social change. Amalgamated Bank advocates alongside those working to make the world more just, compassionate, and sustainable. Amalgamated Bank is the country's largest B Corp® bank and a proud member of the Global Alliance for Banking on Values. We don't just have a mission, we are on a mission to advance economic, social, racial and environmental justice utilizing the tools of finance. For more information, please visit our website at www.amalgamatedbank.com.
Media Contact:
Hudson Munoz
Amalgamated Bank
HudsonMunoz@amalgamatedbank.com
 
###